Bonve Stainless steel industrial lobe pumps are popular in chemical industries because they offer high efficiency, reliability, corrosion resistance and easy maintenance characteristics. Lobe pumps can handle slurries, pastes, and a variety of liquids. If wetted, they offer self-priming performance. A gentle pumping action minimizes product degradation. They also offer continuous and intermittent reversible flows and can operate dry for brief periods of time. Flow is relatively independent of changes in process pressure, too, so output is relatively constant and continuous.
APPLICATIONS
| | |
| --- | --- |
| Chemical Industry | Acids, Adhesives, Detergents, Horticultural Products, Paints, Petrochemicals, Photographic Solutions, Plastics / Resins, Printing Inks, Solvents |
| Pulp and Paper Industry | Dyes, Latex, Cooked Starch, Coating Pigments, Anti-foaming agents, CMC, Polymers, Starch Slurry, Specialty Chemicals, Emulsions, Resins, Retention Aids, Sizing agent, Flocculating agent, Dry/wet strength agent, Softening agent/softener |
| Soap and Detergents Industry | Dishwash Liquid, Dodecyl Benzene Sulphonic Acid, Fabric Conditioner, Fatty Acid, Lye, Neat Soap, Sodium Lauryl Ether Sulphate, Surfactant (AES, LAS, AOS, K12 ), Bathing shampoo, Skin cream , Shampoo, Detergent liquid , Toothpaste, Hair conditionar, Body lotion |
| Waste Treatment Industry | Primary Sludge, Digested Sludge, Humus Sludge, Raw Sewage, Abattoir Waste, Poultry Waste, Other Industrial Waste |
WORKING PRINCIPLES
---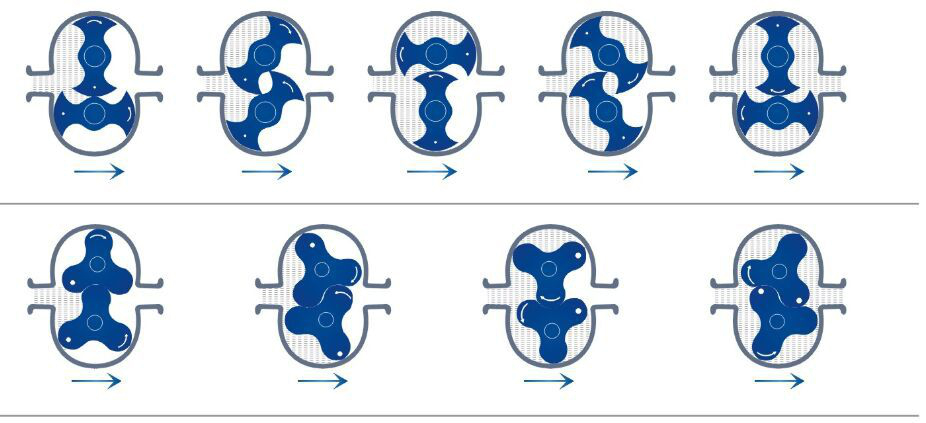 The even rotation of the rotor pair creates a vacuum on the priming side of the pump, which can be defined by the direction of rotation of the drive. This vacuum draws the liquid into the pump chamber. With further rotation, the pumped medium is conveyed past the pump wall into the pressure area. Up to six chamber charges are displaced with each drive rotation– depending on the rotor type. When the rotor is at a standstill, the pump seals off almost completely.
PUMP STRUCTURE DIAGRAM
---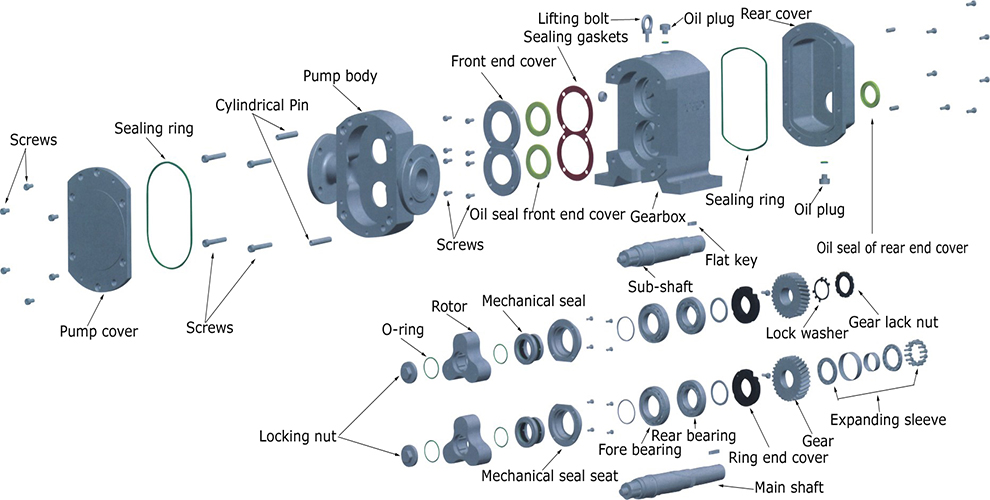 PUMP TECHNICAL FEATURES
Displacement: positive displacement, Displacement is proportional to the speed. Max. Capacity is upto 300m3/h.
Discharge pressure: upto 1.2Mpa.
Suction capacity: Movable pumps can be used to pump canned medium, with intake vacuum of 0.08 Mpa.
Work efficiency: upto 90%
Special mediums to handle: high viscosity upto 1.5million cps, high solid mediums upto 60%, sensitive mediums.
Reversible running allowed: Forward suction, reversal flushing can be realized with pump's symmetric structure, reversible transportation direction.
Dry running: with Bonve's special design on mechanical seal, dry running can be realized.

Maintenance: Compact structure, little space occupation, no need to move pipe systems when maintain.

Wear-resisting: all the contact parts are made of stainless steel. Nearly no wearing parts.
Low shearing: Low working speed, gap is kept between the rotors and between the rotor and the pump body, no friction,long life.
Replacement: take replace of screw pumps, gear pumps, centrifugal pump,diaphragm pump etc.
Low cost: high working efficiency, low consumption, environmental friendly, low maintenance, long life.
PUMP DRIVING
---
BONVE Lobe pumps can be supplied bare shaft (without drive) or mounted on a base plate with drive. For the drive, geared reducer with motor is commonly used since lobe pumps are generally operate at low to medium speeds i.e. 40 to 600 rev/min. The geared motor is direct coupled to the pump drive shaft via a flexible coupling. Pls refer to the structure. For pump working speed, it can be fixed or regulated as per your request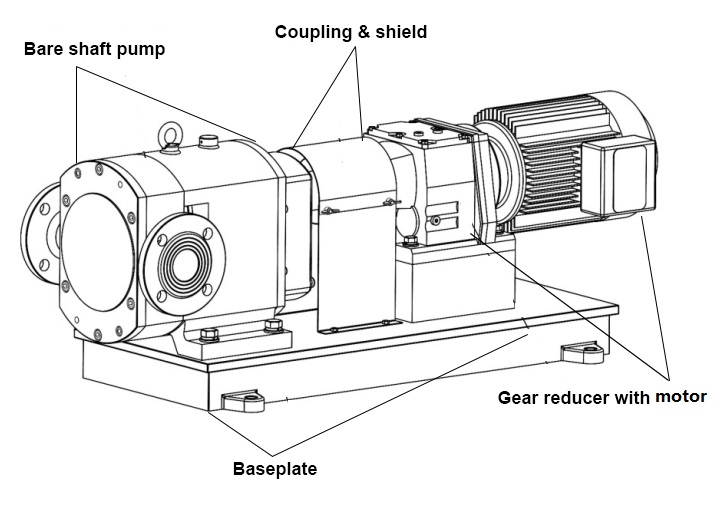 Fixed Speed
When exact flow is not critical a fixed speed drive is generally used.
Variable Speed
To handle changing duty conditions or a number of different duties, it may be necessary to use a variable speed drive or frequency converter to obtain correct pump duty speeds. The frequency converter allows the operator to change the frequency of the electric motor, thereby changing pump speed and controlling flow.
PUMP TYPES
---
PUMP TECHNICAL PARAMETERS
Model

Displace

-ment

(L/r)

Rotation

speed

(r/min)

Flow

rate

(M³/h)

Dis.

Pre.

(Mpa)

Electrical

power

(Kw)

Suc.

Pre.

(Mpa)

Dia. of inlet and

outlet (mm)

25BV6 /12-2

0.15

20-600

2

0.1-1.2

1.1-2.2

-0.095

25

40BV6 /12-5

0.32

20-550

5

0.1-1.2

1.5-4

-0.095

40

50BV6 /12-10

0.65

20-550

10

0.1-1.2

2.2-7.5

-0.095

50

65BV6 /12-20

1.74

20-550

20

0.1-1.2

4-15

-0.095

65

80BV6 /12-30

2.48

20-550

30

0.1-1.2

5.5-22

-0.095

80

80BV6 /12-40

3.65

20-550

40

0.1-1.2

7.5-30

-0.095

100

125BV6 /12-50

4.60

20-550

50

0.1-1.2

11-45

-0.095

125

125BV6 /12-70

6.10

20-550

70

0.1-1.2

15-55

-0.095

125

125BV6 /12-80

7.63

20-550

80

0.1-1.2

18.5-75

-0.095

125

150BV6 /12-120

11.56

20-420

120

0.1-1.2

22-90

-0.095

150

150BV6 /12-150

14.22

20-420

150

0.1-1.2

37-110

-0.095

150

200BV6 /12-200

18.10

20-420

200

0.1-1.2

45-132

-0.095

200

250BV6 /12-250

22.92

20-420

250

0.1-1.2

55-160

-0.095

250

300BV6 /12-300

32.00

20-420

300

0.1-1.2

75-200

-0.095

300
PUMP SELECTION GUIDELINE
Liquid information
Your industry: __________ Liquid name:___________
Features: Sanitary[   ]   Corrosive[    ]   Poisonous[    ]
Viscosity:_______cp Density:_______ Temperature:_____℃ PH value:________
Solid content:_______ Max. size of particle:_______
Using condition
Capacity: Max. required__________ L/H Working required__________ L/H
Discharge pressure: Max. required__________Mpa Working required__________ Mpa
Suction pressure: Max. required__________Mpa Working required____________ Mpa
Delivery head required:____________ Vacuum:________ Mpa
Heating jacket required: Yes [ ] No. [ ] Heating temp.:_____℃
Liquid inlet/outlet direction: Horizontal[ ] vertical[ ]
Pipe size: Inlet___________ Outlet____________
Connection type required: Flange [ ] Thread [ ] Clamp [ ]
Installation type: Fixed [ ] Movable [ ]
Operating status: Continuous [ ] Interruption [ ]
Liquid contact material: SS304 [ ] 316 [ ] 316L [ ] Others________
Special request_____________________________________
Order qty.
* For a quick quote, please email cathy@bonvepumps.com to ask form and fill. Thank you for your support and love for Stainless steel industrial lobe pumps.