We, Bonve have rich experience in the confectionery and sweet food industry. As the domestic first-class positive displacement pump manufacturer, we know how to take customers' needs into consideration. Considering the viscosity and temperature of food, our pumps will make different changes according to each product, such as adding insulation jacket.
What pump we offer?
Bonve offers the broadest range of its Rotary Lobe Pumps for confectionery and sweet food industry. As an excellent pump manufacturer, our hard technical barriers have become a powerful help for our Bonve pumps reform and innovation. So far, Bonve pumps have developed to the fourth generation and are mature.
Typical mediums to be transferred
Biscuit Cream, Fat, Cocoa Butter, Cocoa Mass, Condensed Milk, Fondant, Glucose Sugar Syrup, High-Boiled, Jellies, etc.
How pump works?
The even rotation of the rotor pair creates a vacuum on the priming side of the pump, which can be defined by the direction of rotation of the drive. This vacuum draws the liquid into the pump chamber. With further rotation, the pumped medium is conveyed past the pump wall into the pressure area. Up to six chamber charges are displaced with each drive rotation– depending on the rotor type. When the rotor is at a standstill, the pump seals off almost completely.
Pump main structure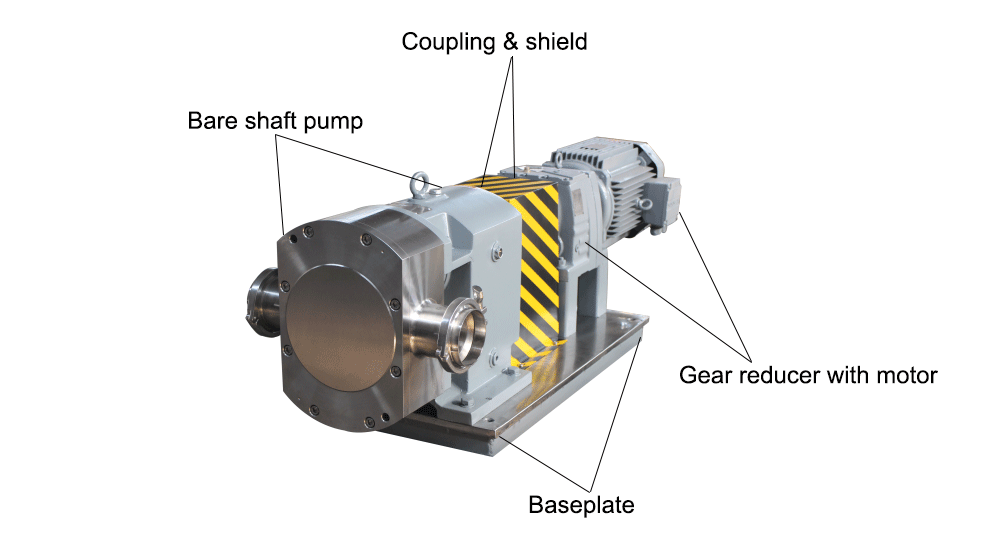 Structure advantage
Advantages of pumps used in confectionery industry
It can transport smoothly at 250 degrees Celsius

Gap is kept between the rotors and between the rotor and the pump body, no friction, long life.

Simple assembling and disassembling, easy to maintenance and clean, strong resistance to wearing.

High efficiency and energy-saving, low failure rate, reliable sealing and low noise.

Special materials are used to pump materials with solid granules, like sludge and sewage.

Capable to pump the viscous materials upto 1.5 million cps and pulp with the solid volume of 60%.

Heating & cooling pumps is of built-in structure, with well heat conductivity.
Who used our pumps?
How to choose our pump?
Selection Guideline
Liquid name:___________
Viscosity: cp Density:_______ Temperature: ℃ PH value:________
Solid content:_______ Max. size of particle:_______
Capacity: Max. required__________ L/H Working required__________ L/H
Discharge pressure: Max. required__________ Mpa Working required__________ Mpa
Connection type required: Thread[ ] Clamp[ ]
Installation type: Fixed [ ] Movable[ ]
Voltage: V Frequency: Hz
Liquid contact material: SS304[ ] 316[ ] 316L[ ]
Special request_____________________________________
Order qty.
Thanks for your trust and love to our rotary lobe pump for your confectionery application. More details please contact our sales engineer - Mr. Andre Chen
Email: bvsales2@bonvepumps.com
Tel : 0086-574-87769810
Mobile: 0086-15888591452