Bonve offers the broadest tange of its homogenizer mixers for bitumen application. Over the years, Bonve has been focused on communication with customers and constantly optimize our mixers to be low maintenance, long-life cycle and environmental friendly. We select the homogenizer according to your characteristics of medium and condition of the technological requirements, bring you the best homogenizer for your critical process, satisfied by you and your customers.
Typical process for modified bitumen/asphalt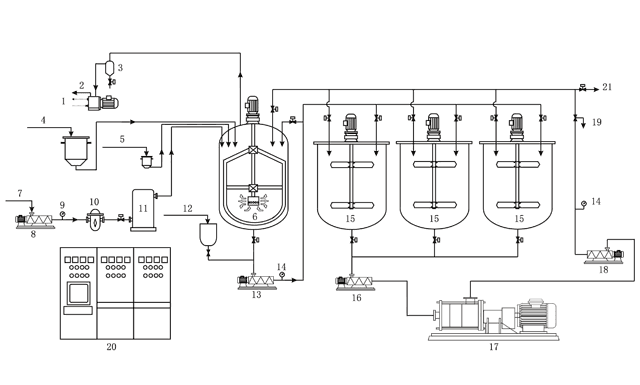 1. Channel for cooling water 2. Evacuation 3. Knock out drum 4. Modifier 5. Stablilizer 6. Make-up tank 7. Heated asphalt
8. Feed pump 9. Manometer 10. Filter 11. Heat exchanger 12. Liquid additives 13. Circulating pumps 14. Electro connecting
pressure gauge 15. Asphalt expansion tank 16. Pitch adjustment pump 17. 3-stage inline homogenizer mixer 18. Discharging
pump 19. Sample valve 20. Computer Control System 21. Finished products
Bonve Homogenizer Mixer
Bonve Homogenizer Mixer is an efficient type machine with mixing, dispersion, breaking, dissolution, refinery, homogenization and emulsifying. It is an ideal machine to be instead of colloid mill, ball mill and high pressure homogenizer. The machine can greatly simplify the traditional productions and upgrade the production efficiency and product quality.
HOW IT WORKS?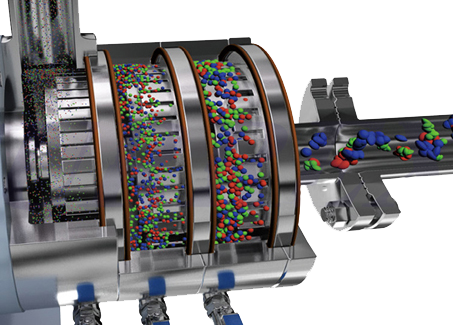 The main parts are stators and rotors. At centrifugal and fluid forces created by rapid turning of the rotors, the stators exercise on the materials with strong power shearing, centrifugal pressing, breaking, fluid friction, turbulent. The processed materials (solid, fluid and gas phase) are quickly refined, homogenized, dis-aggregated and emulsified. The repeat of this process can result in stable and high-quality products.
MIAN TECHNICAL FEATURES

-Capacity: Self-pumping through puts of up to 130 T/H.
-No Bypassing: Product cannot bypass the precision rotor/stator work head.
-Work heads: Three stages rotors/stators.
-Materials of Construction: SS304, SS316 and 316L.
-Motor Specification: Explosion-Proof Motor. Standard power supply: 3ph, 380V, 50Hz.
-Inlet and Outlet Connections: Flange connection as standard.
-Sealing: Double-face water flushed mechanical shaft seals as standard.
-Jacket: Desinged for Heating medium oil with temperature 180-200 Celcius.
TECHNICAL PARAMETERS FOR REFERENCE
Model

Electrical

Power

(Kw)

Rotation

Speed

(r/min)

Handling

Capacity

(m3/h)

Discharge

pressure

(Mpa)

Dia. of

inlet/outlet

(mm)

FHM3/140

11

2900

5

0.2

DN40/32

FHM3/165

18.5

2900

10

0.3

DN50/40

FHM3/185

30

2900

20

0.4

DN65/50

FHM3/200

45

2900

30

0.5

DN80/65

FHM3/220

55

2900

40

0.5

DN80/65

FHM3/240

90

2900

60

0.6

DN100/80

FHM3/260

132

2900

100

0.6

DN125/100
SELECTION GUIDELINE
Your industry/application

Processed medium's name

Medium's proportion

Liquid % ____ Density____ Viscosity____ PH value____

Solid % ____ Solid size ___

Processing requirement

Mixing dissolving ( ) Dispersed suspension ( )

Emulsification ( ) Homogeneity ( )

Reaction ( ) Powder liquid mixing ( )

Working type

Continuous circulation work ( )

Batch type ( )

Working temperature

Particle size

Before processing ____

After processing _____

Handling capacity required

Delivery head/pressure required
* For a quick quote, please email cathy@bonvepumps.com to ask form and fill. Thank you for your interest into our bitumen homogenizer.