Cosmetic creams and lotions are used for a variety of purposes such as cleansing and moisturizing. The ingredients of these will be different according to the desired use, however to some extent the basic manufacturing process is the same.
The Process
---
Products can be either an oil-in-water or water-in-oil emulsion, consisting of emollients and lubricants dispersed in an oil phase, and a water phase containing emulsifying and thickening agents, perfume, color and preservatives. Active ingredients are dispersed in either phase depending on the raw materials and the desired properties of the end product. A typical manufacturing process would be as follows:
Flake/powder ingredients, such as cetyl alcohol and stearic acid, sometimes dry blended in advance, are dispersed into the oil phase. Heating may be required to melt some of the ingredients.

Active ingredients are dispersed in the appropriate phase.

The water phase, containing emulsifiers and stabilizers such as Veegum® or Carbopol®, is prepared separately.

The two phases are then mixed to form an emulsion. This is aided by heating to between 110 - 185℉ (45 - 85℃) depending on the formulation and viscosity.

Mixing is continued until the end product is homogeneous.
The Problem
---
Using conventional agitators a number of problems can be encountered:
Some ingredients can form agglomerates which conventional agitators cannot break down.

Hydration of thickening and suspending agents is one of the most difficult of all mixing operations. Agglomerates can easily form and some ingredients require shear in order to develop their desired properties.

When adding powdered ingredients to the vessel, partially hydrated materials can build up on the vessel wall and parts of the agitator.

Agitators cannot easily form stable emulsions even when the oil and water phases have been heated.

Long process times and additional equipment are often required to achieve a homogeneous product.
The solution
---
Bonve offers its inline high shear mixers for Cosmetic Creams and Lotions Production. It is an efficient type machine with mixing, dispersion, breaking, dissolution, refinery, homogenization and emulsifying. An ideal machine to be instead of colloid mill, ball mill and high pressure homogenizer. The machine can greatly simplify the traditional productions and upgrade the production efficiency and product quality.
WORKING PRINCIPLE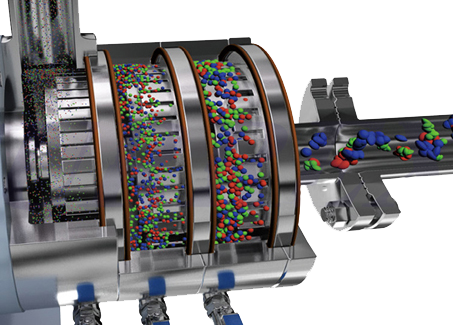 The main parts are stators and rotors. At centrifugal and fluid forces created by rapid turning of the rotors, the stators exercise on the materials with strong power shearing, centrifugal pressing, breaking, fluid friction, turbulent. The processed materials (solid, fluid and gas phase) are quickly refined, homogenized, dis-aggregated and emulsified. The repeat of this process can result in stable and high-quality products.
TECHNICAL PARAMETERS FOR REFERENCE
Model

Electrical

Power

(Kw)

Rotation

Speed

(r/min)

Handling

Capacity

(m3/h)

Discharge

pressure

(Mpa)

Dia. of

inlet/outlet

(mm)

FHM1/140

5.5

2900

2

0.1

DN40/32

FHM1/165

7.5

2900

5

0.15

DN50/40

FHM1/185

11

2900

10

0.15

DN65/50

FHM1/200

15

2900

15

0.15

DN80/65

FHM1/220

22

2900

20

0.15

DN80/65

FHM1/240

30

2900

40

0.2

DN100/80

FHM1/260

37

2900

60

0.2

DN125/100

FHM1/300

45

2900

80

0.25

DN125/100
Above datas are for BONVE single stage inline emulsifying mixer, for a greater shearing and dispersing, three-stage emulsifying mixer can short processing time. Below are the technical parameters.
Model

Electrical

Power

(Kw)

Rotation

Speed

(r/min)

Handling

Capacity

(m3/h)

Discharge

pressure

(Mpa)

Dia. of

inlet/outlet

(mm)

FHM3/140

11

2900

5

0.2

DN40/32

FHM3/165

18.5

2900

10

0.3

DN50/40

FHM3/185

30

2900

20

0.4

DN65/50

FHM3/200

45

2900

30

0.5

DN80/65

FHM3/220

55

2900

40

0.5

DN80/65

FHM3/240

90

2900

60

0.6

DN100/80

FHM3/260

132

2900

100

0.6

DN125/100
WORKING PROCESSING DIAGRAM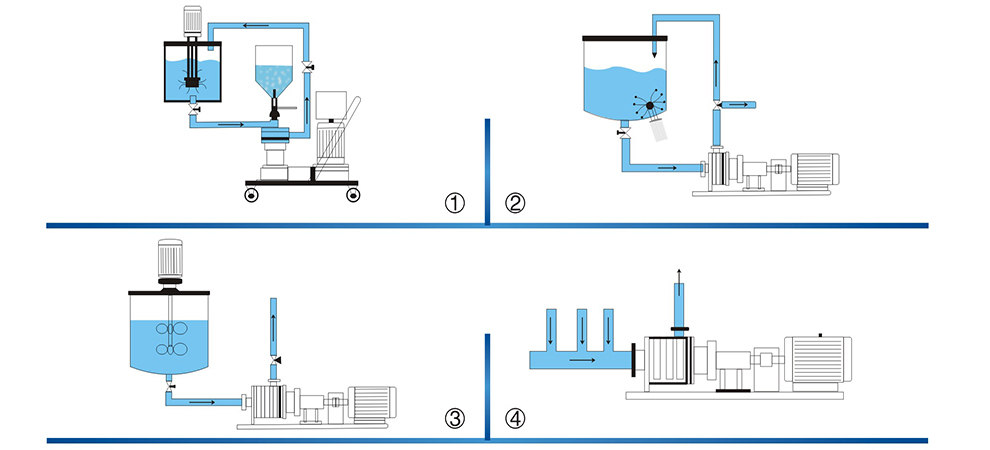 ① Inline high shear mixer working with power liquid homogenizing mixer
② Bottom type high shear mixer working with FHM1 Inline high shear mixer
③ Low speed agitator working with FHM3 Inline high shear mixer
④ Multi-pipe FHM3 Inline high shear mixer continuous production process