We (Bonve) served it's sanitary lobe pumps and high shear homogenizer for food industry more than 18 years since 2001, and has accumulated rich industrial experience and successful cases. Our pumps and mixers are sanitary standard, meet CE, FDA, EHEDG and 3A. They are acknowledged and used over 30 countries around the world. Customers gave the high praise to the Bonve pumps and mixers. See below pic. how customers comment on the Bonve pumps.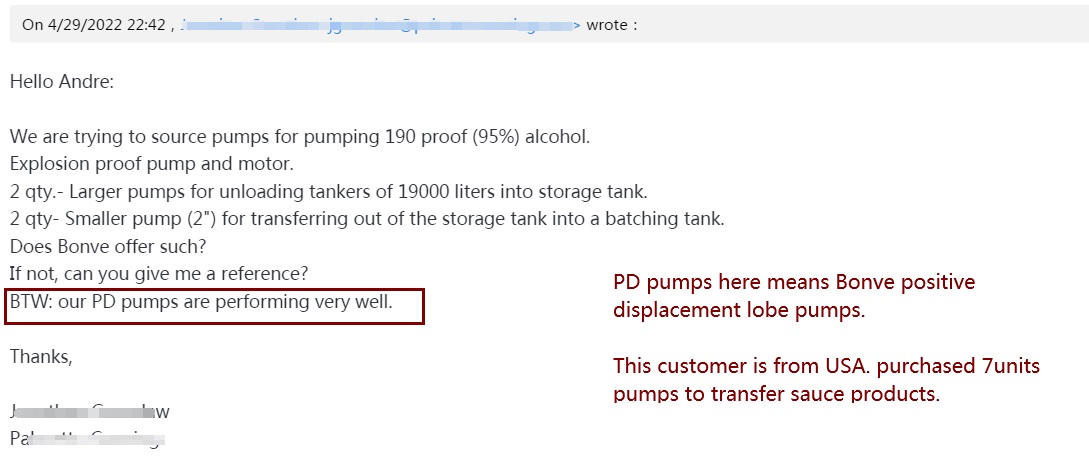 Below sanitary lobe pumps are the purchased units which have the flow of 10m3/H and 4kW motor.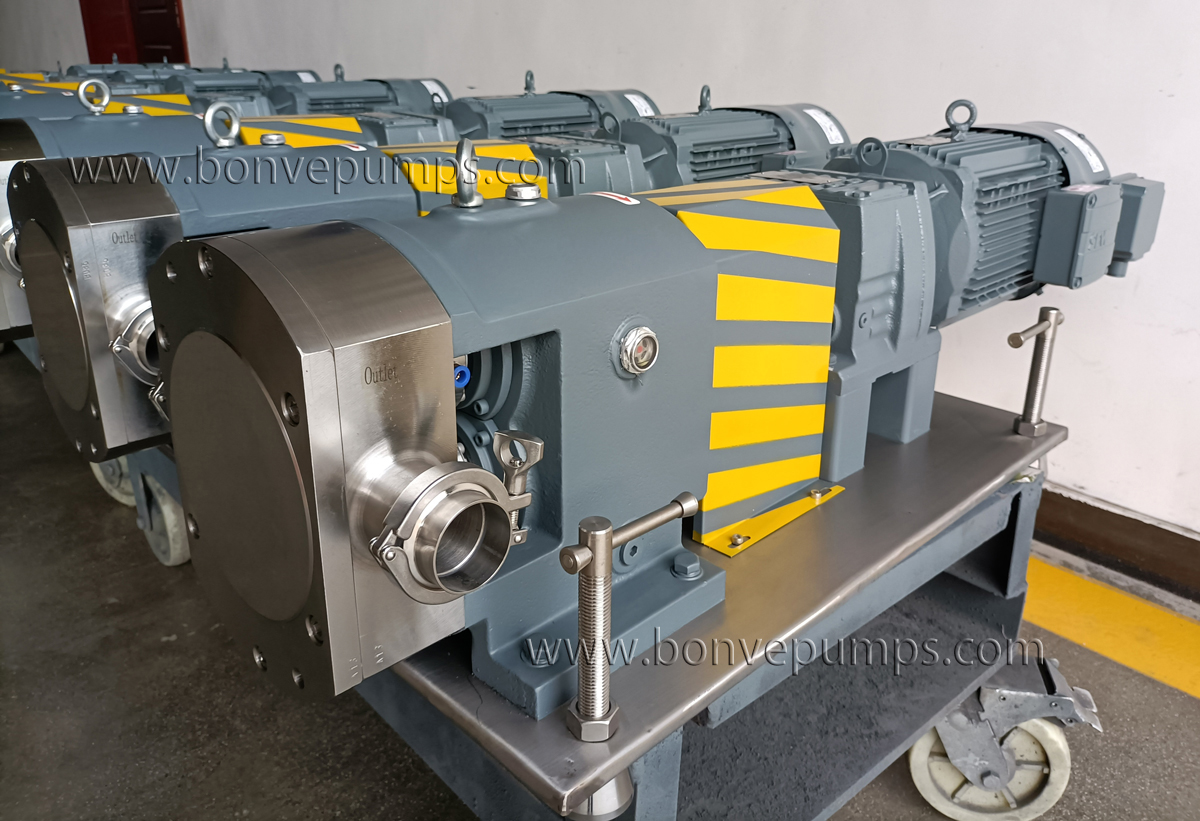 Below high shear homogenizers are the purchased units which have the flow of 5m3/H and 18.5kW motor.
What benefits can Bonve pumps and mixer bring to our customers?
---

(Click the picture to learn more detailed applications)
Bonve Saniatry lobe pumps are widely used in the food, dairy, confectionery, beverages and wine industry.Typical mediums transferred including chocolate, concentrated milk, mayonnaise, yogurt, honey, syrup, sucrose, ketchup, tomato paste, butter, concentrated juice, jam, ice cream, milk, yeast syrup, meat slurry, jelly, condiments, soy protein, beverages, wine etc.Customers can have the below benefits on the pumps.
Sanitation: The wetted parts are manufactured in stainless steel 316 or 316L.

High smoothness: surface roughness is below 1.6μm.

Meet CIP and SIP requirements.

Simple disassembly and assembly, easy maintenance and few wearing parts.

Low speed and no noise

No shear, no damage to the product. Keep the products original nice taste.

Easy and low cost operating

(Click the picture to learn more detailed applications)
Bonve high shear homogenizer mixer is a high-efficiencymixerintegrating mixing, dispersing, crushing, dissolving, refining, depolymerizing, homogenizing and emulsifying. Afterhomogenizer mixer, the original traditional production process is further simplified, the production efficiency is greatly improved, and the product quality is significantly improvedtoo. Homogenization is an important step in creating the high-quality products that consumers expect. The benefits include improved product taste, texture and consistency, which then translate into increased sales and customer satisfaction.
Do you have any demand on the pump and mixers for your food applications? Or do you have any problems with your existing pumps and mixers? Contact cathy@bonvepumps to learn more. And whatsapp No. is 0086-13616639068