BONVE Food grade lobe pumps are to be found in numerous processes, where their reliable low shear flow characteristics are ideally suited to the transfer of media such as starch paste, tomato paste, chocolate, sugar syrup, honey, jam, sauce products. We select the pump according to your characteristics of medium and condition of the technological requirements, bring you the best pump for your critical process, satisfied by you and your customers.
BARE SHAFT PUMP STRUCTURE

WORKING PRINCIPLE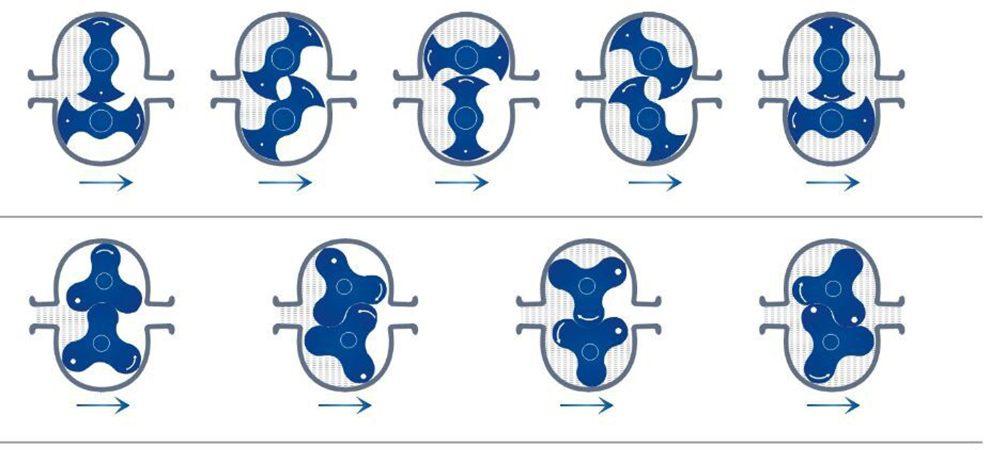 The even rotation of the rotor pair creates a vacuum on the priming side of the pump, which can be defined by the direction of rotation of the drive. This vacuum draws the liquid into the pump chamber. With further rotation, the pumped medium is conveyed past the pump wall into the pressure area. Up to six chamber charges are displaced with each drive rotation– depending on the rotor type. When the rotor is at a standstill, the pump seals off almost completely.
PUMP ROTOR TYPE
Butterfly rotors: used to transfer liquid with middel or small particles, with low damage and low pulse. Capacity is smaller than tri-lobe rotors.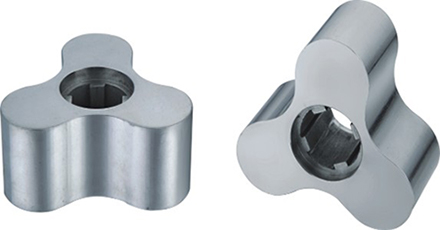 Tri-lobe rotors: Common type. Capacity is higher than other rotors, performance is better. But it has certian breakage to the particles.
PUMP STRUCTURE ADVANTAGES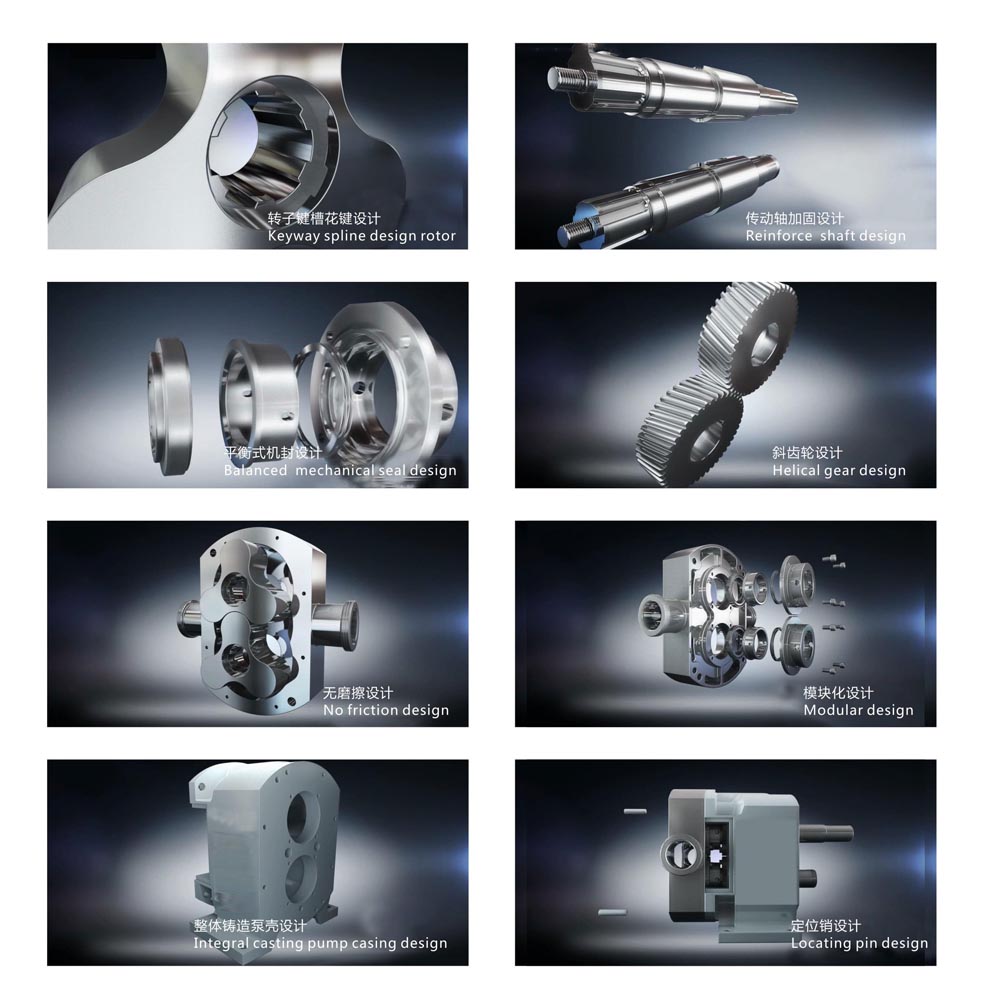 PUMP TECHNICAL FEATURES
Sanitary Feeding Pump
All parts contacting with material are made of stainless steel which is conforming to sanitary standard.
Heating Jacket Design
Lobe pump with heating jacket preserves the heat, without coagulation when pumping liquid which is easy to be coagulated .
Water flushing or Oil-lubricated mechanical seal
Preventing equipment normal operation on the end surface of the mechanical seal from coagulation during feeding high viscosity liquid, and the service life mechanical seal in bad environment can be ensured.
Almost Have No Consumable Parts
There don't have any damage on the part during the rotor pump is operating (except mechanical seal), all parts contacting with material is made of stainless steel. A pair of rotors run synchronically during operating in a space with each other, no contact, there won't be any damage in theory, so the rotor pump can work at temperature of 220℃ in all environments.
PUMP TECHNICAL PARAMETERS
Model

Displace

-ment

(L/r)

Rotation

speed

(r/min)

Flow

rate

(M³/h)

Dis.

Pre.

(Mpa)

Electrical

power

(Kw)

Suc.

Pre.

(Mpa)

Dia. of inlet and

outlet (mm)

25BV6 /12-2

0.15

20-600

2

0.1-1.2

1.1-2.2

-0.095

25

40BV6 /12-5

0.32

20-550

5

0.1-1.2

1.5-4

-0.095

40

50BV6 /12-10

0.65

20-550

10

0.1-1.2

2.2-7.5

-0.095

50

65BV6 /12-20

1.74

20-550

20

0.1-1.2

4-15

-0.095

65

80BV6 /12-30

2.48

20-550

30

0.1-1.2

5.5-22

-0.095

80

80BV6 /12-40

3.65

20-550

40

0.1-1.2

7.5-30

-0.095

100

125BV6 /12-50

4.60

20-550

50

0.1-1.2

11-45

-0.095

125

125BV6 /12-70

6.10

20-550

70

0.1-1.2

15-55

-0.095

125

125BV6 /12-80

7.63

20-550

80

0.1-1.2

18.5-75

-0.095

125
Listed parameters are tested by water. Your liquid viscosity, density, temperature are necessary to supply for a right model delection. Below table is the guideline for your reference.
PUMP SELECTION GUIDELINE
Liquid information
Your industry: __________ Liquid name:___________
Features: Sanitary [    ]   Corrosive [    ]   Poisonous [    ]
Viscosity:_______cp Density:_______ Temperature:_____℃ PH value:________
Solid content:_______ Max. size of particle:_______
Using condition
Capacity: Max. required__________ L/H Working required__________ L/H
Discharge pressure: Max. required__________Mpa Working required__________ Mpa
Suction pressure: Max. required__________Mpa Working required____________ Mpa
Delivery head required:____________ Vacuum:________ Mpa
Heating jacket required: Yes [ ] No. [ ] Heating temp.:_____℃
Liquid inlet/outlet direction: Horizontal [ ] vertical [ ]
Pipe size: Inlet___________ Outlet____________
Connection type required: Flange [ ] Thread [ ] Clamp [ ]
Installation type: Fixed [ ] Movable [ ]
Operating status: Continuous [ ] Interruption [ ]
Liquid contact material: SS304 [ ] 316 [ ] 316L [ ] Others________
Special request_____________________________________
Order qty.
* Pls email cathy@bonvepumps.com to ask for Excel file for quick writing. Any questions on food grade lobe pumps, chocolate pumps, syrup pumps, welcome to contact us for communication.