Starch is used as a thickening, stabilizing and binding agent in many foods, including soups, sauces, gravies and baked products. "Native" or unmodified starch is obtained from a variety of sources, including corn, tapioca, potato and rice, etc. Unmodified starches are relatively easy to disperse and generally do not increase in viscosity until heated or cooked.
Starch can be modified by a number of methods to obtain functional properties such as texture, appearance, viscosity and stability under heating or freezing.
Pregelatinized starches are modified by precooking then drying so that they thicken when added to cold water - they are sometimes called CWS (cold water swelling) starches. These products can be difficult to disperse and hydrate.
The Process
---
Despite the diversity of end uses, and the various processing methods and equipment used, there are a number of common processing requirements which must be satisfied in order to successfully disperse starch:
The powder/liquid mixing system must be capable of rapidly incorporating the starch powder and dispersing it throughout the contents of the mix.

Vigorous in-tank movement must be maintained as viscosity rises.

The powder must be reduced to the smallest possible particle size to maximize yield.
The Problem
---
The manufacturing process is subject to a number of problems:
Agglomerates can easily form when the pregelatinized starch powder is added to water. Conventional agitators do not produce sufficient shear to break them down.

Once viscosity increase has started, agitation of the solution and incorporation of powder becomes increasingly difficult.

Long mixing times are required to complete dispersion/hydration.

Potential full yield is difficult to obtain using traditional methods.

Dry premixing of powdered ingredients increases labor costs and process time.

Undissolved starch can gradually hydrate during storage or subsequent processing, leading to undesired changes in product viscosity.
The solution
---
Bonve offers its inline emulsifying mixers for Starch dispersion. It is an efficient type machine with mixing, dispersion, breaking, dissolution, refinery, homogenization and emulsifying. An ideal machine to be instead of colloid mill, ball mill and high pressure homogenizer. The machine can greatly simplify the traditional productions and upgrade the production efficiency and product quality.
WORKING PRINCIPLE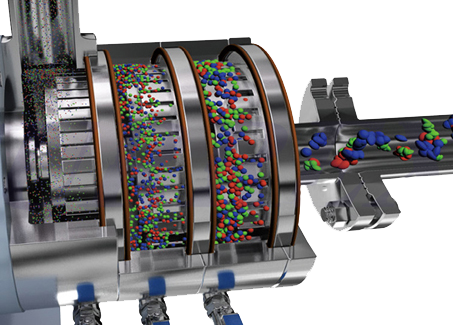 The main parts are stators and rotors. At centrifugal and fluid forces created by rapid turning of the rotors, the stators exercise on the materials with strong power shearing, centrifugal pressing, breaking, fluid friction, turbulent. The processed materials (solid, fluid and gas phase) are quickly refined, homogenized, dis-aggregated and emulsified. The repeat of this process can result in stable and high-quality products.
TECHNICAL PARAMETERS FOR REFERENCE
Model

Electrical

Power

(Kw)

Rotation

Speed

(r/min)

Handling

Capacity

(m3/h)

Discharge

pressure

(Mpa)

Dia. Of

inlet/outlet

(mm)

FHM1/140

5.5

2900

2

0.1

DN40/32

FHM1/165

7.5

2900

5

0.15

DN50/40

FHM1/185

11

2900

10

0.15

DN65/50

FHM1/200

15

2900

15

0.15

DN80/65

FHM1/220

22

2900

20

0.15

DN80/65

FHM1/240

30

2900

40

0.2

DN100/80

FHM1/260

37

2900

60

0.2

DN125/100

FHM1/300

45

2900

80

0.25

DN125/100
Above datas are for BONVE single stage inline emulsifying mixer, for a greater shearing and dispersing, three-stage emulsifying mixer can short processing time. Below are the technical parameters.
Model

Electrical

Power

(Kw)

Rotation

Speed

(r/min)

Handling

Capacity

(m3/h)

Discharge

pressure

(Mpa)

Dia. of

inlet/outlet

(mm)

FHM3/140

11

2900

5

0.2

DN40/32

FHM3/165

18.5

2900

10

0.3

DN50/40

FHM3/185

30

2900

20

0.4

DN65/50

FHM3/200

45

2900

30

0.5

DN80/65

FHM3/220

55

2900

40

0.5

DN80/65

FHM3/240

90

2900

60

0.6

DN100/80

FHM3/260

132

2900

100

0.6

DN125/100
WORKING PROCESSING DIAGRAM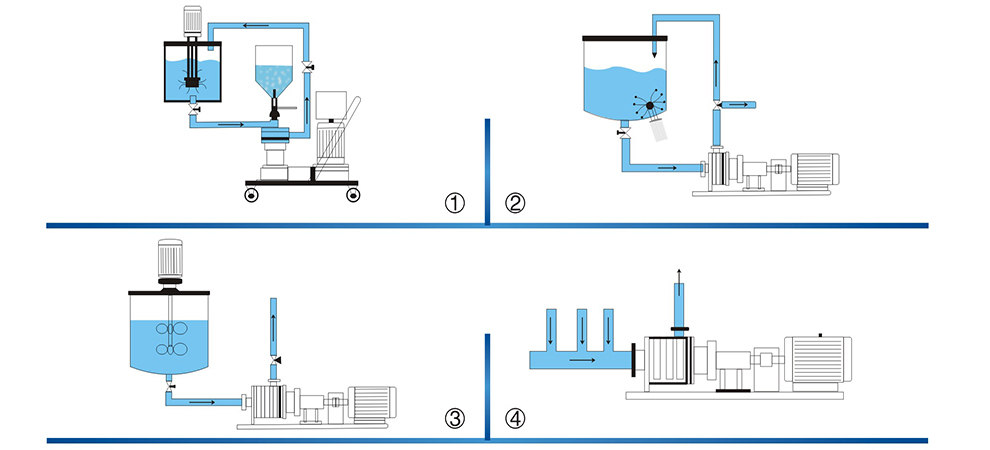 ① Inline emulsifying mixer working with power liquid homogenizing mixer
② Bottom type high shear mixer working with FHM1 inline emulsifying mixer
③ Low speed agitator working with FHM3 inline emulsifying mixer
④ Multi-pipe FHM3 inline emulsifying mixer continuous production process
Email: cathy@bonvepumps.com
Skype : pump-girl
Tel : 0086-574-87769810
Mobile/whatsapp : 0086-13616639068