INLINE EMULSIFYING MIXERS FOR FOOD STARCH DISPERSION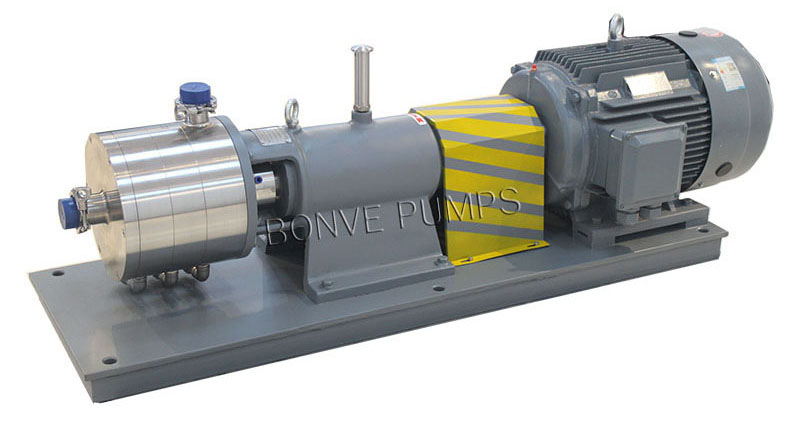 Starch is used as a thickening, stabilizing and binding agent in many foods, including soups, sauces, gravies and baked products. "Native" or unmodified starch is obtained from a variety of sources, including corn, tapioca, potato and rice, etc. Unmodified starches are relatively easy to disperse and generally do not increase in viscosity until heated or cooked.
Starch can be modified by a number of methods to obtain functional properties such as texture, appearance, viscosity and stability under heating or freezing.
Pregelatinized starches are modified by precooking then drying so that they thicken when added to cold water - they are sometimes called CWS (cold water swelling) starches. These products can be difficult to disperse and hydrate.
PRODUCT LINE: FHM1 AND FHM3 SERIES
Bonve inline emulsifying mixers for food strach dispersion are mainly devided into 2 series based on different numbers of rotor and stator, working types. (The pump with 2-stage rotor and stage can be made too)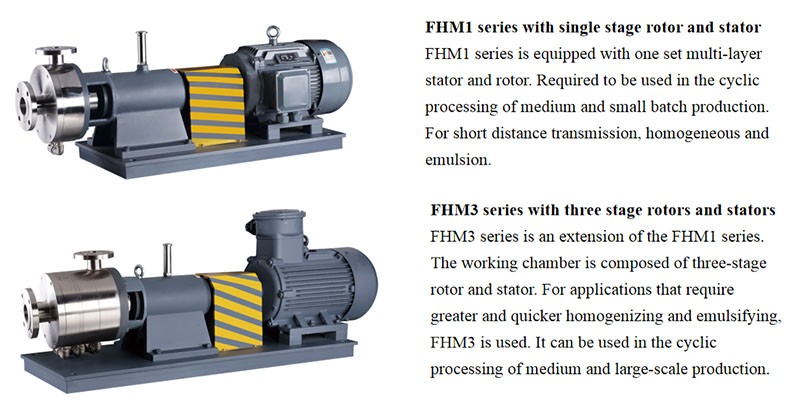 THE PROCESS
Despite the diversity of end uses, and the various processing methods and equipment used, there are a number of common processing requirements which must be satisfied in order to successfully disperse starch:
The powder/liquid mixing system must be capable of rapidly incorporating the starch powder and dispersing it throughout the contents of the mix.

Vigorous in-tank movement must be maintained as viscosity rises.

The powder must be reduced to the smallest possible particle size to maximize yield.
THE PROBLEM
The manufacturing process is subject to a number of problems:
Agglomerates can easily form when the pregelatinized starch powder is added to water. Conventional agitators do not produce sufficient shear to break them down.

Once viscosity increase has started, agitation of the solution and incorporation of powder becomes increasingly difficult.

Long mixing times are required to complete dispersion/hydration.

Potential full yield is difficult to obtain using traditional methods.

Dry premixing of powdered ingredients increases labor costs and process time.

Undissolved starch can gradually hydrate during storage or subsequent processing, leading to undesired changes in product viscosity.
THE SOLUTION
Bonve offers its inline emulsifying mixers for Starch dispersion. It is an efficient type machine with mixing, dispersion, breaking, dissolution, refinery, homogenization and emulsifying. An ideal machine to be instead of colloid mill, ball mill and high pressure homogenizer. The machine can greatly simplify the traditional productions and upgrade the production efficiency and product quality.
WORKING PRINCIPLE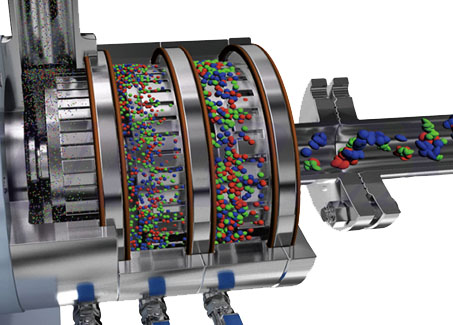 The main parts are stators and rotors. At centrifugal and fluid forces created by rapid turning of the rotors, the stators exercise on the materials with strong power shearing, centrifugal pressing, breaking, fluid friction, turbulent. The processed materials (solid, fluid and gas phase) are quickly refined, homogenized, dis-aggregated and emulsified. The repeat of this process can result in stable and high-quality products.
MAIN TECHNICAL PARAMETERS: FHM1
Model

Electrical Power

(kW)

Rotation Speed

(r/min)

Capacity

(m3/h)

Discharge pressure

(Mpa)

Diameter of

inlet/outlet

FHM1/165

7.5/11

2900

0-10

0.15

DN50/40

FHM1/185




11/15

2900




0-15

0.15

DN65/50

FHM1/200




15/18.5

2900




0-20

0.15

DN80/65

FHM1/220




22/30

2900




0-30

0.15

DN80/65

FHM1/240




30/37

2900




0-50

0.15

DN100/80

FHM1/260




37/45

2900




0-60

0.15

DN125/100

FHM1/300




45/75

2900




0-80

0.15

DN125/100
MAIN TECHNICAL PARAMETERS: FHM3
Model

Electrical Power

(kW)

Rotation Speed

(r/min)

Capacity

(m3/h)

Discharge pressure

(Mpa)

Diameter of

inlet/outlet

FHM3/165

18.5

2900

0-10

0.30

DN50/40

FHM3/185




30

2900




0-20

0.30

DN65/50

FHM3/200




45

2900




0-30

0.30

DN80/65

FHM3/220




55

2900




0-40

0.30

DN80/65

FHM3/240




90

2900




0-60

0.30

DN100/80

FHM3/260




132

2900




0-100

0.30

DN125/100

FHM3/300




160

1400




0-120

0.30

DN150/125
Remarks:
1. Abovedates are tested by water. For product with poor liquidity or require a higher discharge pressure, Bonve lobe pump is advised to be installed before the homogenizer for transferring.
2. Port size can be changed as needed. Flange connection as starndard, clamp and thread as optional.
3. Motor matched is Siemens, ABB or equivalent brand. Normal type with 3ph/380V/50Hz as standard.
4. MOC: SS316 as standard, SS304, 316L and others as optional. 150°C (302°F) anti-heat seal.
5. Bonve reserves the right to change specifications without prior notification.
APPLICATION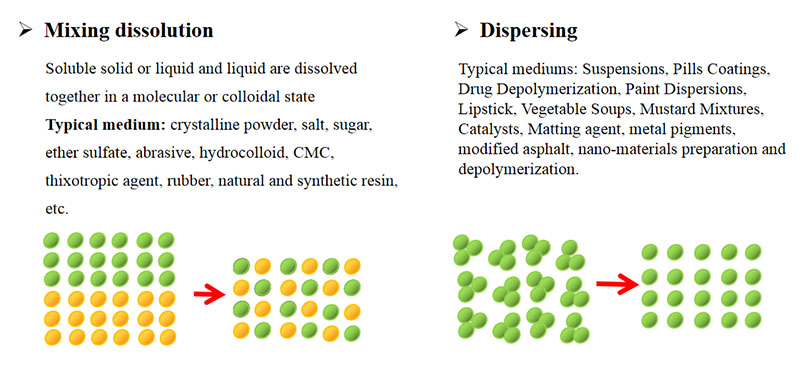 Refined chemistry: Pigment, dyestuff, plastic auxiliaries, textile auxiliaries, adhesives, resin emulsion, hot melt adhesive, sealing compound, glue, pulp, finishing agent, surface active agent, carbon black disperse, adhesive-proof agent, mold release agent, defoaming agent, fluorine cleaning agent, polishing agent, leather auxiliaries, pigment paste, wax emulsion, bactericide, coagulant, etc.
Petrochemistry: Lubricant, heavy oil emulsion, diesel oil emulsion, modified asphalt, catalyzer, wax emulsion etc.
Biology & Pharmaceuticals: Injection, antibiotic, medical emulsion, medical paste, health products, mini-capsule emulsion, cell breaker, etc.
Paint & ink: Printing ink, paint, emulsion paint, building coating, nanometer coating, photocureable coating, coating auxiliaries, carbon black disperse, print ink, glaze, bentonite, etc.
Farm chemicals: Pesticide, herbicide, medicinal butter, fertilizer, pesticide adjuvant, etc.
Nanometer materials: Disperse and dis-aggregation for nanometer medium, etc.
Food stuff industry: Juice, jam, ice-cream, milk products, food addictive, tea drink, chocolate, bean milk, essence, milk, etc.
Consumer chemistry:Fluid detergent, skim cream, lip paste, face foam, silicon lio emulsion, household essence, skin care, cosmetics, etc.
Paper making: Pulp, filling, fry strength agent, wet strength agent, sizing agent, filtering agent, anti-foaming agent spreading, water treatment chemicals, etc.
WORKING PROCESSING DIAGRAM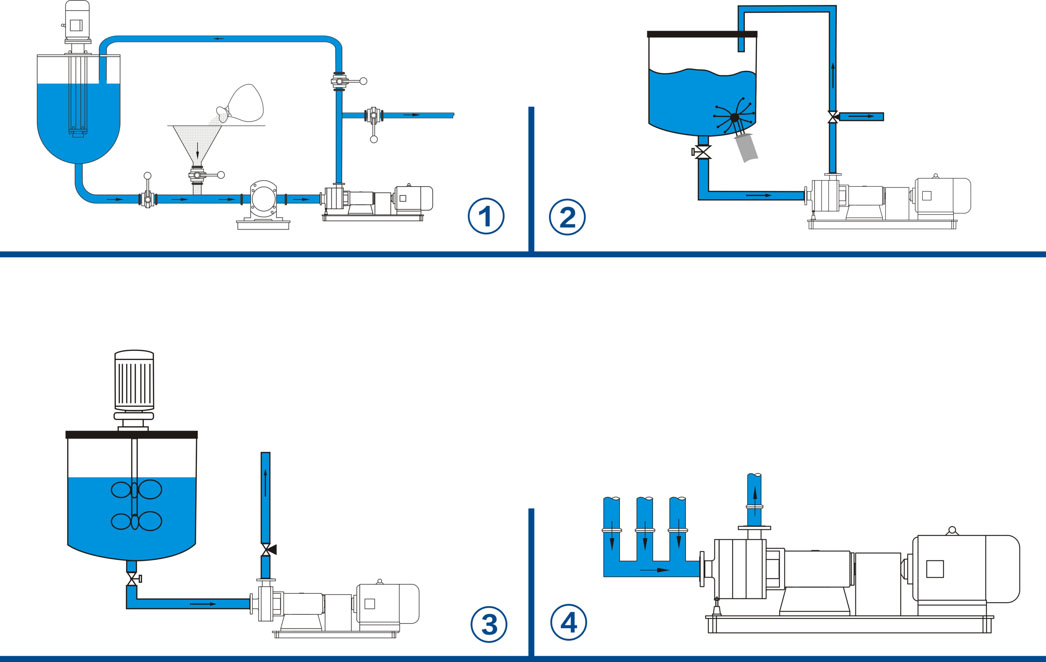 SELECTION GUIDELINE
Your industry/application

Processed medium's name

Medium's feature

Sanitary ( ) Corrosive ( ) Poisonous ( )

Medium's proportion

Liquid % ____ Density____ Viscosity____ PH value____

Solid % ____ Solid size ___

Processing requirement

Mixing dissolving ( ) Dispersed suspension ( )

Emulsification ( ) Homogeneity ( )

Reaction ( ) Powder liquid mixing ( )

Working type

Continuous circulation work ( )

Batch type ( )

Working temperature

Particle size

Before processing ____

After processing _____

Handling capacity required

Delivery head/pressure required

Vessel's dimension

Existing pipe size and connection type

The existing process equipment and the existing problems



HOW TO CONTACT US ?
We welcome you to contact us for a pump solution if have any demand.
Contact person: Cathy Bao (sales manager)
Ningbo Bonve Pumps Co.,Ltd.
Tel: +86-574-87769810 Fax: +86-574-62962898
Mobile/Whatsapp/Wechat: +86 13616639068
Email: cathy@bonvepumps.com