Bonve industrial rotary lobe pumps are widely used in the fields of daily chemicals and fine chemicals. As a pioneer with 17 years of experience, we always keep updating our pumps and applied for a variety of patents, make sure higher compatibility for pump sealing, more stability when working under high pressure and so on. As an excellent manufacturer, our hard technical barriers have become a powerful help for our Bonve pump reform and innovation. So far, our pumps have developed to the fourth generation, which is long lasting, leak free, and proven in many harsh applications.
The following materials can be transported by our pump.
Polyester paste, Polyamide paste, Polypropylene paste, Acrylic paste, Chlorin paste, Spandex paste, Viscose paste, PVA, Polyester slice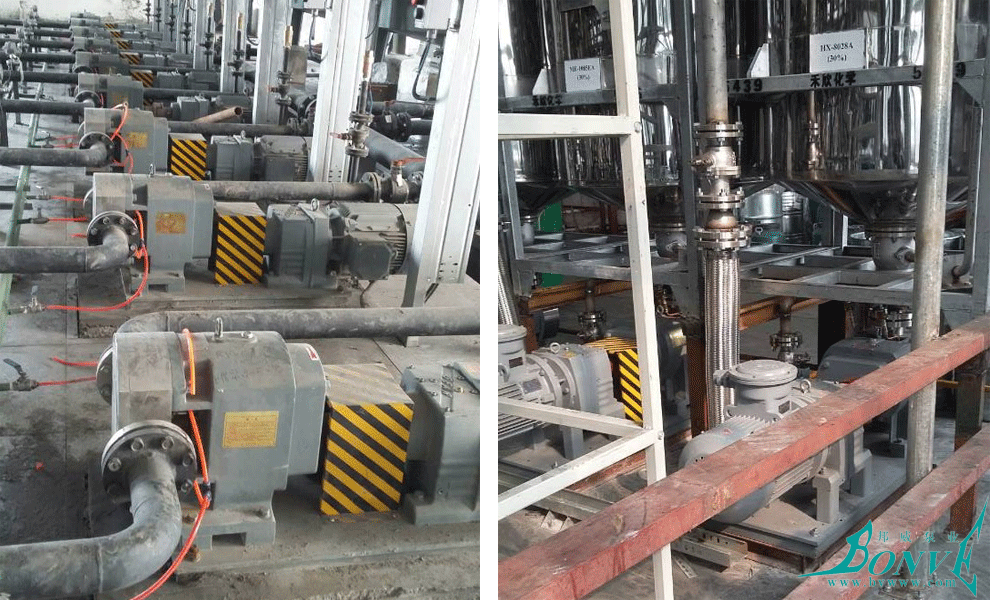 How pump works?
The even rotation of therotor pair creates a vacuum on the priming side of the pump, which can be defined by the direction of rotation of the drive. This vacuum draws the liquid into the pump chamber. With further rotation, the pumped medium is conveyed past the pump wall into the pressure area. Up to six chamber charges are displaced with each drive rotation– depending on the rotor type. When the rotor is at a standstill, the pump seals off almost completely.
What its advantages?
Displacement: positive displacement, Displacement is proportional to the speed. Discharge pressure: upto 1.2 Mpa.

Suction capacity: Movable pumps can be used to pump canned medium, with intake vacuum of 0.08 Mpa.

Work efficiency: upto 90%

Special mediums to handle: high viscosity upto 1.5 million cps, high solid mediums upto 60%, sensitive mediums.

Reversible running allowed: Forward suction, reversal flushing can be realized with pump's symmetric structure, reversible transportation direction.

Dry running: with Bonve's special design on mechanical seal, dry running can be realized.

Maintenance: Compact structure, little space occupation, no need to move pipe systems when maintain.

Wear-resisting: all the contact parts are made of stainless steel. Nearly no wearing parts.

Low shearing: Low working speed, gap is kept between the rotors and between the rotor and the pump body, no friction, long life.

Replacement: take replace of screw pumps, gear pumps, centrifugal pump, diaphragm pump etc.

Low cost: high working efficiency, low consumption, environmental friendly, low maintenance, long life.
Our products have been used in the paper industry since the early days of production. Nowadays, they are widely used in the fields of daily chemical and fine chemicals. As a pioneer with 17 years of experience, our company keeps updating our pumps. And applied for a variety of patents, so that the pump's sealing is getting better and better, the stability is also higher and higher, and our pump is equipped with explosion-proof motor, which can ensure safe use. We have rich experience in the chemical industry, materials temperature, viscosity, and pH are all factors we consider.
How to choose our pump?
Selection Guideline
Liquid name:___________
Viscosity:_______cp Density:_______ Temperature:_____℃ PH value:________
Solid content:_______ Max. size of particle:_______
Capacity: Max. required__________ L/H Working required__________ L/H
Discharge pressure: Max. required__________Mpa Working required__________ Mpa
Connection type required: Thread [ ] Clamp[ ]
Installation type: Fixed [ ] Movable[ ]
Voltage:____ V Frequency: _____Hz
Liquid contact material: SS304 [ ] 316 [ ] 316L [ ]
Special request_____________________________________
Order qty.
We are so pleased with interest into Our Bonve Rotary Lobe Pumps. Hope we can work with you and solve your pumping problem during production. Contact Mr. Hank Li with his mail bvsales1@bonvepumps.comfor a pump solution.
Email: bvsales1@bonvepumps.com

Tel : 0086-574-87769810

Mobile: 0086-15669501367